News Roundup 19 Feb
Subscribe
Subscribe - news & resources

News Roundup 19 Feb
Latest Industry News
Latest in the Cloud
CIF Blog
Cloud Native Load Balancing versus Kemp.
By Kemp Technologies.
Cloud-first deployment is the choice of many organizations when they are looking to roll out new applications and services, or when they come to upgrade existing ones. The benefits of Cloud deployment are well known and don't need repeating here.
---
IR35 in the Technology sector.
By MHA MacIntyre Hudson.
Changes to the employment tax intermediaries legislation – usually referred to as 'IR35' – will have ramifications across all sectors. This includes the Technology sector, wherever a business uses personal services provided through intermediaries. Businesses need to act now to ensure they are fully compliant with the new rules from 6 April 2021.
---
Desktop as a Service for Windows Virtual Desktop.
By Ensono.
Windows Virtual Desktop (WVD) turns everything you ever thought about Virtual Desktop Infrastructure (VDI) on its head: from total cost of ownership, through licensing and application performance to user experience. Enhanced by Ensono and fully managed for major enterprise deployments, it's the next generation VDI you need to power your remote workforce, deliver specialised workloads and create secure environments to get work done.
---
Cloud Events and Webinars
A look at employment law best practice and changes for 2021 | 23 Feb'21 | 11am - 12pm
Trading Post Brexit | 2 March'21 | 10am - 11.30am
Webinar: In Pursuit of Tomorrow | 11 March'21 | 3.30pm
- 30 free tickets available for In Pursuit of Tomorrow with Kevin Gaskell Former CEO of Porsche, Lamborghini and BMW.
Unlocking the Data Economy with the Power of the Cloud: Strategies for Success | 16 March'21 | 4pm
Reducing risk in the cloud – What you haven't considered | 17 March'21 | 9.30am - 10.30am
---
More from the Industry
Webinar | Cloud Migration: Why, How and When
In this newly cloud-first world - driven by the Digital Transformation necessitated by the pandemic - there's never been a more crucial time to make sure your cloud migration is a success. In this episode of DT in Action, CIF and guest experts share the essential considerations of cloud migration.

Cloud Industry Forum | Data Intensity | Matillion | Fujitsu
---
You'll hear everything you ever wanted to know about upgrading to about the benefits of using Oracle E-Business Suite in the cloud version 12.2 from Data Intensity and Arcivate, including an overview of Arcivate's story to date, and how they can help you release value by enhancing and automating your business processes.
Webinar | Arcivate: Upgrading Oracle E-Business Suite 12.2 In The Cloud | Data Intensity
---
Webinar | Zero Trust with Cloud App Security | Softwerx
This webinar presented by Matt Smith, Microsoft Solutions Architect from Softwerx, explores the basics of Microsoft Cloud App Security and looks at how we integrate with Conditional Access and Microsoft Defender for Endpoint to address security gaps in an organization's use of cloud services.
---
Industry Research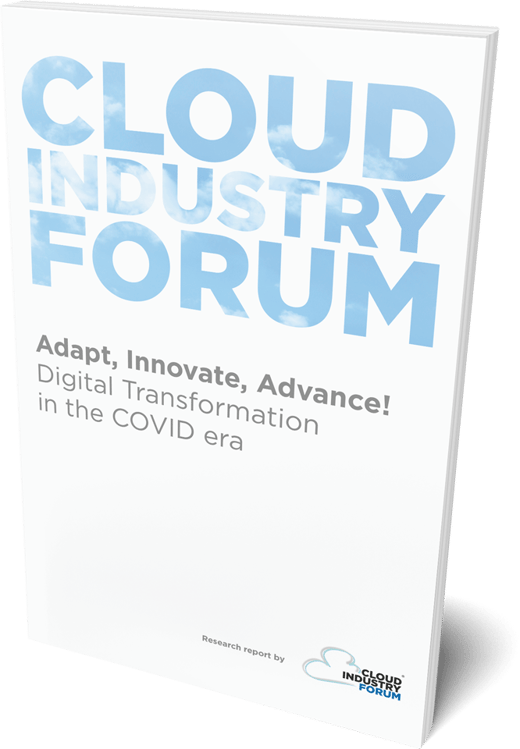 Adapt, Innovate, Advance!
Digital Transformation in the Covid era
The cloud delivered for over 90 per cent of UK plc when tackling the challenge of COVID.Cloud Industry Forum research finds that COVID put the Cloud to test and it passed with flying colours.